Principal's Desk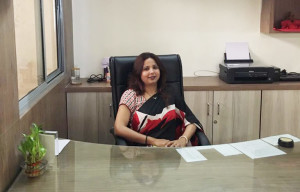 Greetings to all the readers. Another academic year has gone by; time has flown very fast in the blink of an eye.

Every human being leaves behind a legacy depending upon the kind of life one has lived. This could be their achievements, values etc. which can continue to live on in those whose lives they have touched Your mission in life is to sow the seeds of goodness and love.

School is the place where one learns to develop his or her character, learns moral values like respect for life .The school leaves no stone unturned in the quest to bring passion in learning- by exploring new ways. It aims at producing citizens filled with new vision for the betterment of the society.
Literate doesn't ensure that a child is educated.

There is a vast difference between being literate and educated. A person who is educated possesses humanness, is aware of ones strengths and limitations and is able to accept everything with ease. Opportunity knocks at every heart-only some recognize it and become successful, while the others turn a deaf ear to that knocking and lose in the race of life. To recognize an opportunity , one needs to keep the mind open.

"Time slips through our hands like grains of sand ,never to return again. Those who use time wisely, from an early age are rewarded with rich , productive and satisfying lives."

May God bless us all and strengthen our determination.

With best wishes to all the readers.

Mrs. Moushumi Kumar.